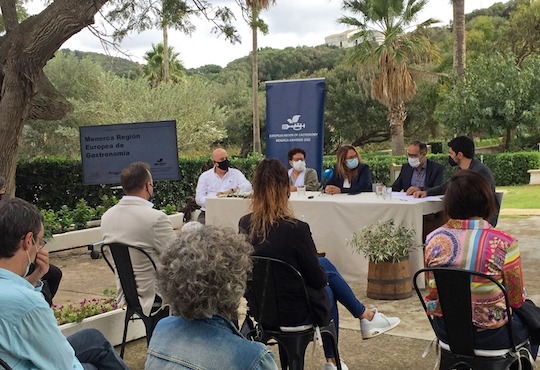 26 October 2021 – Menorca officially launched its programme as European Region of Gastronomy 2022, a title awarded by IGCAT in recognition of the island's work to build cross-sectoral dialogue and support local cultural and food diversity.
Inclusive, transversal, dynamic and open to new initiatives, Menorca's programme includes a rich calendar of activities related to the local gastronomy, culture, and sustainability, the core concepts of the island's European Region of Gastronomy project.
"The European Region of Gastronomy Award is a journey and a community-owned project. It needs to work as a stimulus to advance in the protection and promotion of the cultural and gastronomic richness of Menorca, an essential element to ensure economic, social and cultural sustainability" affirmed President of the Consell Insular de Menorca, Susana Mora, who intervened at the programme's presentation event.
She also explained that the programme has been designed according to well-defined goals such as: "positioning the island as a quality gastronomic destination; encouraging an increased consumption of local products; promoting innovation and transformation projects that allow the development of innovative models in the agrifood sector; and making the people of Menorca the best ambassadors of our gastronomy."
The launching event was held in S'Hort de Sant Patrici, on 21 October 2021 and, besides President Susana Mora, was attended by Menorca's Councillor for Economy and Territory, Josep Pastrana; Mayor of Ferreries, Joana Febrer; and all the stakeholders involved in the project. Coordinator of Menorca, European Region of Gastronomy awarded 2022, Miguel Huesa presented the actions included in the programme.
Menorca will kick-start their title year in January 2022 with the official European Region of Gastronomy 2022 Opening Ceremony that will be followed by a series of events and initiatives that will take place throughout the year. Many of them will be held in the Museum of Menorca, selected as the official headquarters for the European Region of Gastronomy 2022 project.
The programme includes both consolidated actions in the annual calendar of the island (such as the Mostra de Cocina Menorquina, Menorca en el Plato, Fira del Camp, and the Gastronomic Days devoted to different local products), as well as new proposals developed to promote local products, small agrifood enterprises and businesses in the food services sector (such as the festivals dedicated to the Mahón-Menorca cheese and the Vino de la Tierra Isla de Menorca; tasting events; a national chef competition; workshops and guided tours). Several exhibitions and a congress of gastronomic journalists will animate the cultural scene of the island.
From an international perspective, Menorca will host different events organised in collaboration with IGCAT and the European Region of Gastronomy Platform, including the 3rd International Food Gift Challenge and the 1st Top Websites for Foodie Travelers competition, that will take place in the framework of the local gastronomy fair Fira Arrels. Furthermore, a close cooperation is planned with Trondheim-Trøndelag (Norway) also awarded European Region of Gastronomy 2022.
With the aim to project its culinary richness to the world and position itself as an international gastronomic destination, Menorca will organise events and actions at important international fairs such as Fitur, Madrid Fusión and Destinations Nature, in Paris. A brand-new European Region of Gastronomy 2022 website and social media accounts will be launched to reach both local and international visitors.
Finally, the European Region of Gastronomy 2022 title will be an opportunity for Menorca to develop various forward-looking initiatives aimed at fostering cultural innovation, inclusion and dissemination through gastronomy. Among them, the creation of study rooms where children and youngsters at risk of social exclusion can get healthy and ecological snacks, and a collaboration between hotels and local producers to make local products available for hotel guests to taste and buy.
Menorca, European Region of Gastronomy awarded 2022 counts on the support of its founding stakeholders: Fundació Foment del Turisme de Menorca; Consell Insular de Menorca; Federación de la Pequeña y Mediana Empresa de Menorca; Asociación Menorquina de Cafeterías , Bares y Restaurantes; Asociación Hotelera de Menorca (ASHOME); Confederación de Asociaciones Empresariales de Baleares (CAEB); Asociación de Restauración de Menorca; Cofradía de Pescadores de Ciutadella; Cofradía de Pescadores de Fornells; Cofradía de Pescadores de Mahón; Cooperativa del Camp de Menorca; Asociación de Periodistas y Escritores Gastronómicos de las Islas Baleares; Fra Roger Gastronomía y Cultura; Escuelas de Adultos de Menorca; and Escuela de Turismo de Menorca. A call for new stakeholders to join the project is now open for interested entities, associations and individuals.
Read Menorca, European Region of Gastronomy 2022 official programme (in Spanish) on menorca.es.
About the European and World Regions of Gastronomy
Candidate and awarded European and World Regions of Gastronomy, guided by IGCAT, are working together to strengthen food security through the celebration of distinctive food cultures; create employment by stimulating creativity and gastronomic innovation; nourish children and adults through culinary and cultural education; drive environmental sustainability in tourism, hospitality and agricultural sectors; support balance and sustainable tourism practices; highlight and support expertise from within rural and urban communities, creating connections and sharing good practises; and contribute to community health and well-being.
About IGCAT
IGCAT aims to empower local communities by raising awareness of the importance to protect and promote distinct regional food, culture, arts and natural assets as part of sustainable and balanced tourism and development strategies. This is essential to safeguard our planet, health, wellness and local economies.
IGCAT is a non-profit institute established in 2012, working with regional stakeholder consortiums in the fields of gastronomy, culture, arts and tourism. It counts on the expertise of a worldwide network of experts and works in partnership with specialised intergovernmental organisations. IGCAT founded the European and the World Region of Gastronomy Award and is the official secretariat for the European and World Regions of Gastronomy Platform. Furthermore, the Institute has developed the European Young Chef Award, the European Food Gift Challenge, the Top Websites for Foodie Travelers and the Food Film Menu.