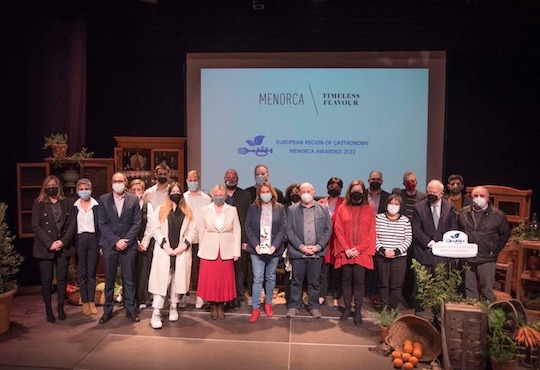 17 January 2022 – Menorca officially kicked-off its title year as European Region of Gastronomy 2022 awarded by IGCAT at an opening ceremony full of excitement and emotion.
Held on 15 January 2022, the event was attended by the stakeholders involved in the European Region of Gastronomy project, as well as several local and regional authorities including the President of the Balearic Islands Government, Francina Armengol and the President of the Island Council of Menorca, Susana Mora.
With the aim to nurture cooperation with other member regions of the European Region of Gastronomy Platform, especially among young professionals, three finalists to IGCAT's European Young Chef Award 2021 were also invited to participate: Inês Branco, from Coimbra Region 2021-22; Janko Dulc, from Slovenia 2021; and Eric Montes, from Catalonia 2016.
"This title should not only be used to showcase the best that the region has to offer, but also and foremost to create local and international synergies and to think about what future we envision for our children" highlighted President of IGCAT, Diane Dodd, PhD, who praised Menorca's commitment to bring together chefs, producers, associations, academics and many other actors for the island to become part of the European Regions of Gastronomy Platform.
Blanca Mayandia, chef with Menorcan roots and star of the TV programme Blanca en Menorca, called for the need to value the legacy of the island's farmers and fishermen and their genuine way of producing and cooking local products, as well as to safeguard local recipes and respect the products' calendar, as the fields and the sea are not production machines.
Following a break offered by the Dues Llunes musical duo (Annabel y Auba Villalonga), the High Representative for the United Nations Alliance of Civilizations (UNAOC) and official ambassador of Menorca, European Region of Gastronomy awarded 2022, Miguel Ángel Moratinos intervened.
Moratinos aptly pointed out that Menorca has been shaped by cultural and food diversity, built around the sum of multiple, non-exclusive identities and an almost 30-year-long commitment to protect biodiversity as a Biosphere Reserve. Based on these grounds, the title of European Region of Gastronomy awarded 2022 is an excellent society project of the 21st century.
The opening ceremony culminated with the symbolic handover of the title by President of IGCAT, Diane Dodd to President of the Insular Council of Menorca, Susana Mora. On behalf of all Menorcans, Mora collected an award expressly designed for the occasion by Silvia Vivó, a local artisan who was among the winners of IGCAT's European Food Gift Challenge 2020.
After showing a video of congratulations from Trondheim-Trøndelag, also awarded European Region of Gastronomy 2022, Susana Mora stressed that the title is not just an additional recognition, but rather a project from the island to strengthen Menorca both internally, by building cross-sectoral dialogue, and externally, as a promotional tool and a way to create synergies with other territories.
The ceremony concluded with the intervention of President of the Balearic Islands Government, Francina Armengol who affirmed that the Menorcan society should be very proud of their strength and will to implement such an exciting project through a year full of activities and reflection on crucial topics.
Menorca's programme as European Region of Gastronomy awarded 2022 includes more than 50 activities, initiatives and projects to take place over 365 days.
Menorca was officially awarded European Region of Gastronomy 2022 on 18 January 2020 by an independent jury of International experts from IGCAT.
About the European/World Regions of Gastronomy
Candidate and awarded European/World Regions of Gastronomy, guided by IGCAT, are working together to strengthen food security through the celebration of distinctive food cultures; create employment by stimulating creativity and gastronomic innovation; nourish children and adults through culinary and cultural education; drive environmental sustainability in tourism, hospitality and agricultural sectors; support balance and sustainable tourism practices; highlight and support expertise from within rural and urban communities, creating connections and sharing good practises; and contribute to community health and well-being.
About IGCAT
IGCAT aims to empower local communities by raising awareness of the importance to protect and promote distinct regional food, culture, arts and natural assets as part of sustainable and balanced tourism and development strategies. This is essential to safeguard our planet, health, wellness and local economies.
IGCAT is a non-profit institute established in 2012, working with regional stakeholder consortiums in the fields of gastronomy, culture, arts and tourism. It counts on the expertise of a worldwide network of experts and works in partnership with specialised intergovernmental organisations.
IGCAT founded the European and World Region of Gastronomy Award and is the official secretariat for the World and European Regions of Gastronomy Platforms. Furthermore, the Institute has developed the European Young Chef Award, the World Food Gift Challenge, the Top Websites for Foodie Travelers Award and the Food Film Menu.