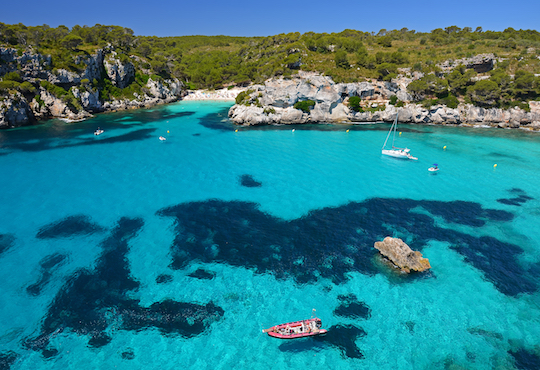 24 May 2021 – Menorca, European Region of Gastronomy awarded 2022 was presented at FITUR as a leading destination in terms of sustainability and safety, on 20 May 2021, as reported by the online news portal Menorca.info.
During her speech from the Balearic Islands' stand, President of the Fundació Fomento del Turisme de Menorca (FFTM), Susana Mora highlighted how, during the pandemic, Menorca has strengthened its commitment towards sustainable development. She also added that by focusing on conserving its essence and roots, the island has been able to reinforce its uniqueness, despite the challenging times.
A UNESCO Biosphere Reserve since 1993 with 66% of its land protected, Menorca is promoting a green and balanced tourism model, continued Mora, who also stressed that the island is "one of the safest destinations in Europe. We have paid attention to every detail to offer the best of our land. And we are an example of resilience and respect for the environment."
Read original article Mora destaca en Fitur la seguridad sanitaria y sostenibilidad de Menorca (Spanish) at menorca.info
About the European Young Chef Award
The European Young Chef Award 2021 is a competition organised and promoted by the International Institute of Gastronomy, Culture, Arts and Tourism (IGCAT) in collaboration with Minho, European Region of Gastronomy awarded 2016. The European Young Chef Award gathers finalists of regional contests from around Europe to present and exchange knowledge about traditional dishes and local food products from their regions and then compete proposing their innovative reinterpretation of traditional recipes, judged by star chefs and international experts.
About the European and World Regions of Gastronomy
Candidate and awarded European and World Regions of Gastronomy, guided by IGCAT, are working together to strengthen food security through the celebration of distinctive food cultures; create employment by stimulating creativity and gastronomic innovation; nourish children and adults through culinary and cultural education; drive environmental sustainability in tourism, hospitality and agricultural sectors; support balance and sustainable tourism practices; highlight and support expertise from within rural and urban communities, creating connections and sharing good practises; and contribute to community health and well-being.
About IGCAT
IGCAT aims to empower local communities by raising awareness of the importance to protect and promote distinct regional food, culture, arts and natural assets as part of sustainable and balanced tourism and development strategies. This is essential to safeguard our planet, health, wellness and local economies.
IGCAT is a non-profit institute established in 2012, working with regional stakeholder consortiums in the fields of gastronomy, culture, arts and tourism. It counts on the expertise of a worldwide network of experts and works in partnership with specialised intergovernmental organisations.
IGCAT founded the European and the World Region of Gastronomy Award and is the official secretariat for the European and World Regions of Gastronomy Platform. Furthermore, the Institute has developed the European Young Chef Award, the European Food Gift Challenge, the Top Visitor Experience and the Food Film Menu.