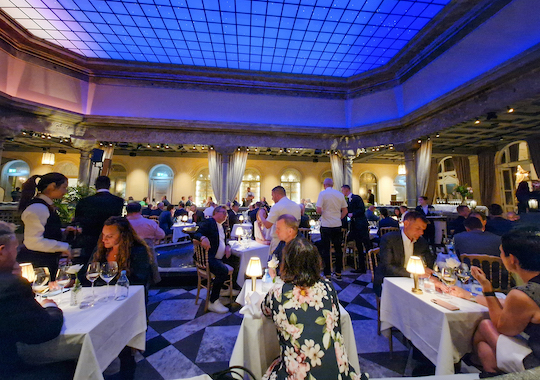 By Mai Løvaas and Silje Kolaas – Matriket Midt
3 August 2022 – Christopher Davidsen of Speilsalen and Britannia Hotel invited Trondheim guests and the very best of Nordic chefs to a historic and unforgettable evening with Nordic Taste Dinner.
Trøndelag Food Festival started with a real starry bang.
Ten top Nordic chefs, with a total of eleven Michelin stars, and eleven courses. A night to remember in glamourous and stylish Britannia Hotel, a five star hotel housing Michelin restaurant Speilsalen. For the first time in Britannia Hotel's history the doors between Speilsalen ('Mirror Hall') and the large dining room of Palmehaven ('Palm Garden') were swung open.
Executive chef Christopher Davidsen gathered his Nordic colleagues for a seafood extravaganza, each course an expression of the respective Nordic chef's star restaurant. Over 200 guests enjoyed tasting the creations of the top chefs of Sweden, Finland, Iceland and Norway. When did anyone ever before savor the inspirations of so many Nordic top chefs at the same time?
Read full original article Nordic Taste Dinner at matriketmidt.no