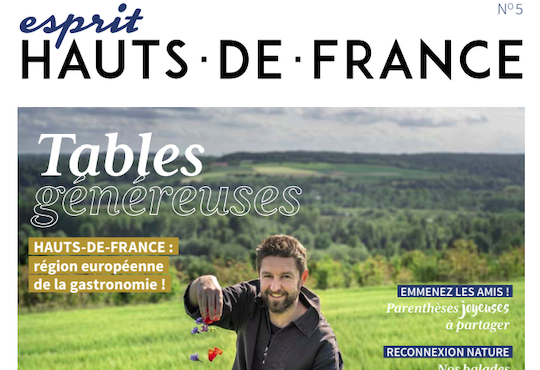 30 September 2022 – The European Region of Gastronomy 2023 award of Hauts-de-France shines on the pages of the 2022 edition of the regional magazine Esprit Hauts-de-France, that annually highlights the best that the region has to offer.   
With the contribution of some of the top chefs in Hauts-de-France – from starred, to self-taught, to Michelin-green-starred – the article reveals a shared commitment in the region to support local, quality, healthy food and deliver a sustainable cuisine through an engaging storytelling.
Creativity is the key word to innovate the local rich culinary heritage, that every chef shapes uniquely with their own personal touch. But it is also a common way of strengthening "the art of eating well, eating better and stimulate sustainable dietary changes" within the region, supporting food that is "more local, healthier, more virtuous" and an expression of "solidarity with the future generations" (Esprit Hauts-de-France – translated by the author).
Therefore, the European Region of Gastronomy 2023 title is for Hauts-de-France not only a recognition of its great cuisine, but also a stimulus for its chefs to strongly advocate for "the use of local, seasonal products, fight against food waste" and recognise the essential "work of those who provide the ingredients: from the farmerto the fisherman, from the breeder to the beekeeper, it is a message to be transmitted to the generations coming into the profession" (Esprit Hauts-de-France – translated by the author).
Enjoy the full article on Esprit Hauts-de-France nº5 (French only)
About the European/World Regions of Gastronomy
Candidate and awarded World/European Regions of Gastronomy, guided by IGCAT, are working together to strengthen food security through the celebration of distinctive food cultures; create employment by stimulating creativity and gastronomic innovation; nourish children and adults through culinary and cultural education; drive environmental sustainability in tourism, hospitality and agricultural sectors; support balance and sustainable tourism practices; highlight and support expertise from within rural and urban communities, creating connections and sharing good practises; and contribute to community health and well-being.
About IGCAT
IGCAT aims to empower local communities by raising awareness of the importance to protect and promote distinct regional food, culture, arts and natural assets as part of sustainable and balanced tourism and development strategies. This is essential to safeguard our planet, health, wellness and local economies.
IGCAT is a non-profit institute established in 2012, working with regional stakeholder consortiums in the fields of gastronomy, culture, arts and tourism. It counts on the expertise of a worldwide network of experts and works in partnership with specialised intergovernmental organisations.
IGCAT founded the World/European Region of Gastronomy Award and is the official secretariat for the World/European Regions of Gastronomy Platforms. Furthermore, the Institute has developed the European Young Chef Award, the World Food Gift Challenge, the Top Websites for Foodie Travelers Award and the international Food Film Menu.