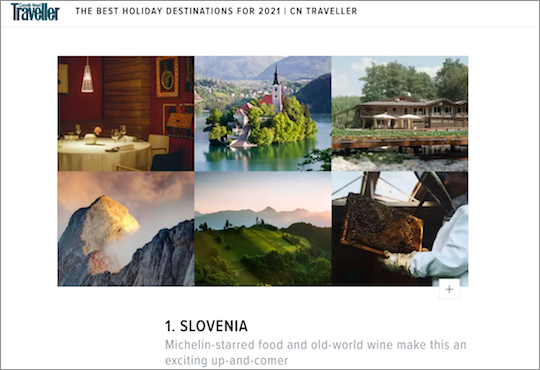 30 September 2020 – Slovenia, awarded European Region of Gastronomy 2021 by IGCAT, has been selected as best holiday destination for 2021 by world-renowned luxury travel magazine, Condé Nast Traveller.
"It's the sustainable food practices and carefully considered old-world techniques that mean Slovenia is making itself known as a big-hitting foodie hotspot" highlights the article The Best Holiday Destinations for 2021 that places Slovenia on the top of the list.
By putting the spotlight on the region's ecological farming and sustainable gastronomy, the magazine emphasises Slovenia's richness in local, high-quality ingredients and long-standing culinary traditions, as well as its excellent Michelin-awarded restaurants and chefs.
"Slovenia is clearly becoming a global green boutique destination for the most demanding visitors looking for diverse, active, green and five-star experiences. Today's ranking of Slovenia at the top of yet another reference scale is further proof that we are on the right track and that the future is on our side," said Minister of Economic Development and Technology of Slovenia, Zdravko Počivalšek, as reported on the Slovenian Tourist Board website.
Also nominated 2021 tasty escape by National Geographic earlier this year, Slovenia is creating huge expectations for its European Region of Gastronomy title year. Based on the theme Taste Slovenia, the region's programme is part of a long-term development strategy aimed at positioning Slovenia as a sustainable boutique gastronomic destination.
Read the full article The Best Holiday Destinations for 2021 on cntraveller.com.
About the Regions of Gastronomy Platform
Candidate and awarded Regions of Gastronomy, guided by IGCAT, are working together to raise awareness about the importance of their cultural and food uniqueness; stimulate creativity and gastronomic innovation; educate for better nutrition; improve sustainable tourism standards; highlight distinctive food cultures; and strengthen community well-being.
About IGCAT
IGCAT aims to empower local communities by raising awareness of the importance to safeguard and promote distinct food, culture, arts and sustainable tourism assets. This is essential to balance against globalised food trends that are impacting on our planet, health and local economies.
IGCAT is a non-profit institute established in 2012, working with regional stakeholder consortiums in the fields of gastronomy, culture, arts and tourism. It counts on the expertise of a worldwide network of experts and works in partnership with specialised intergovernmental organisations.
IGCAT provides the Region of Gastronomy Award and is the official secretariat for the Regions of Gastronomy Platform. Furthermore, the Institute has developed the Young Chef Award, the Local Food Gift Challenge, the Top Visitor Experience and the Food Film Menu.